Purple Sage Trading Post
Click Here for Trips with Ruth & Sumner
Click Here for Bonneville Racing
Click Here for Sumner's Home Page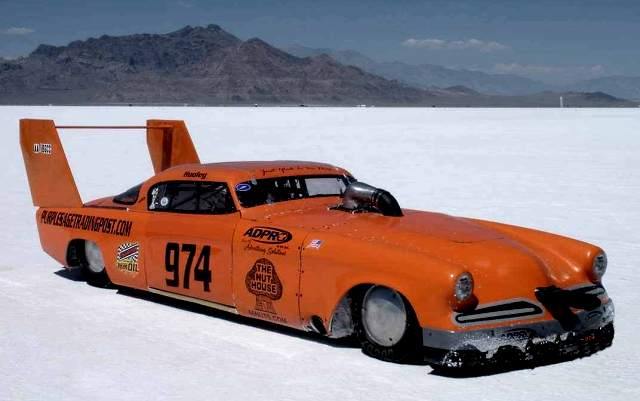 ..
Purple Sage Trading Post is proud to be one of the sponsors for Hooley's 253 MPH Stude and Sumner's 310 Salt Bullet Lakester. Click ( HERE ) for more on both of these and other Bonneville cars.
---
Purple Sage Trading Post
..
(To combat spam I often change this e-mail address, so if you are having problems e-mailing click above for the current e-mail address. I will be disconnecting the phone so please use e-mail to contact me or the following address)
790 South Main --- Blanding, Utah 84511
---
I'm sad to say that after 13 years of being in business Purple Sage Trading post was closed in October 2006. I'm collecting Social Security, working on house, boat, and car projects and other interests. The building is currently leased to Sterling Black who has a chiropractic practice.
We had a lot of faithful customers over the years and want to thank all of them for their business and support.
Thanks, Sumner
.................
..............Ruth and Sumner. Picture taken in Long Beach, CA by our friends Sandi & Matt Stolle
.............( Ruth A. (Dawson) Patterson --September 11, 1942 ~ August 30, 2014 – In Honor of Ruth )
====================================================================================
Pictures of the store when it was still the trading post.......




.
.
.
.